Zambia – Africa's Less Discovered Wilderness
Price Starting at $5,795.00
Lions, leopards and hippos – oh my! On safari in Zambia, discover a wilderness of plains and rivers called home by some of the most impressive wildlife in the world. From zebra to warthog and the countless number of bird species in the sky and along the river banks, your daily wildlife-viewing by foot, 4×4 open land cruiser, boat and canoe gives you rare access to this untamed part of the world. Experience the unparalleled excitement of tracking leopard and lion on foot in South Luangwa National Park and discover the wealth of wildlife that inhabit the banks and islands of the Lower Zambezi National Park. At night, return to the safari chic comfort of your beautiful lodges where you can view elephant and antelope drinking from the river.
Degree of Difficulty –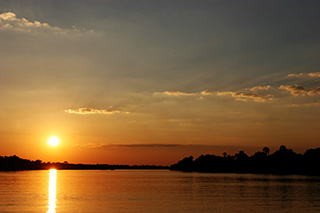 Prices vary by season and package. Please inquire by phone at (800) 627-1244 or email info@classicescapes.com for more information and a pricing estimate.
Maximum group size: 18 travelers. Chongwe only has 9 tents and Kafunta 8 chalets and 2 luxury suites.
YOUR JOURNEY INCLUDES:
All flights within Zambia between parks.
Superior accommodations throughout as indicated or similar.
All meals while on safari. Other meals as specified in the itinerary (B = Breakfast, L = Lunch, D = Dinner).
All wildlife viewing by 4×4 open vehicles, driven by professional rangers, by foot, boat or canoe.
Specialist guide with a minimum of 10 travelers.
Complimentary bottled water in vehicles and during meals.
All applicable hotel/lodge taxes and gratuities for baggage handling.
All park entry fees.
Complimentary baggage tags and passport wallet
Complimentary emergency evacuation insurance
Zambia is best visited during the winter months (our summer months) as the rest of the time they experience rain and parts of the country are completely flooded and not easily accessible. Ideal time to visit is between May and November. It is quite hot in October and November and cool during June to September. At Victoria Falls, the water levels are high January-July on the Zambian side and diminish after that. For best viewing of the Falls, we recommend that travelers staying on the Zambian side should visit the Zimbabwe side between August and the end of the year – this tour can very easily be arranged at an additional cost. months to visit Zimbabwe. Victoria Falls has a hot climate and is best viewed from the Zimbabwe side yearround.