Zimbabwe – The Thunder & Roar of Africa's True Wilderness
Price Starting at $13,795.00
Categories: Southern Africa, Sub-Saharan Africa
Itinerary Upload File:
Product Banner Image: , , , , ,
Products Link PDF:
Departure Date and Year:
Products Link PPT:
Discover some of the most impressive wilderness in the world. From lion to wild dog and countless bird species, witness incredible wildlife on walks, boat rides, and open canopied 4×4 drives that allow you to capture every precious sight. Visit Zimbabwe's Hwange National Park with its massive herds of elephants and abundant predators. At Victoria Falls, feel the mist amid its magnificent thunderous cascades. Marvel at a plethora of wildlife on the banks of the Chobe River in Botswana and watch as elephant and buffalo quench their thirst in the river. When you're not out on a natural adventure, experience the elegant accommodations of your camps and the friendly service of the local staff. This is a fascinating journey for anyone who wants a more private, exclusive experience.
Degree of Difficulty –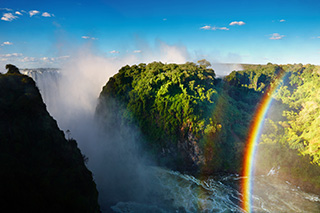 Prices vary by season and package. Please inquire by phone at (800) 627-1244 or email info@classicescapes.com for more information and a pricing estimate.
Maximum group size: 16 travelers. Changa only has 8 rooms, although two are family tents and group size can expand.
YOUR JOURNEY INCLUDES:
Flights between Hwange/Kariba/Harare.
Flight between Kariba/Victoria Falls on the post extension.
Flight between Cape Town/Johannesburg on the pre extension.
All meals daily at camps. Other meals as indicated.
All wildlife viewing by 4X4 vehicles, driven by professional ranger, by foot and by boat.
Specialist guide will accompany the group with a minimum of 10 travelers.
Complimentary bottled water in vehicles throughout.
All applicable hotel and lodge taxes and gratuities for baggage handling.
All park entry fees.
Complimentary baggage tags and passport wallet.
Complimentary emergency evacuation insurance.
Zimbabwe has three distinct seasons. December to April: warm and wet; May to August: cool and dry; September to November: hot and dry. October is the hottest month, being humid and cloudy with thunderstorms caused by moist air from the east. The main raining season starts in mid-November, with heavy tropical storms lasting well into April. May to mid-August is regarded as the cool season, after which temperatures rise rapidly. September usually is very dry and one of the best months to visit Zimbabwe. Victoria Falls has a hot climate and is best viewed from the Zimbabwe side year-round.