Great Escapes: Peru – Of Land and Water, of History and Nature
Escape to a place where past and present exist in stunning harmony. This is a nation of natural beauty and a heritage of innovation, from the master weavers who create some of the most coveted textiles in the world to the ancient ruins built into the rugged terrain to a trendy wave of culinary hot spots in the cities. This trip visits the cornerstones of Peru's offerings, including tours of Lima and Cusco, visits to the iconic Machu Picchu, and a weaving demonstration from a world-renowned master of the art. From the creations of civilization, delve into the wilds of the Amazon and the rustic way of living within. On jungle hikes and canoe rides, discover the secrets of the rainforest. Experience the many offerings of this mystical destination on this Great Escape to Peru.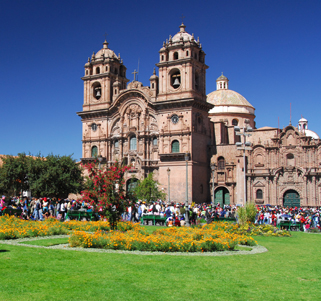 YOUR JOURNEY INCLUDES:
All ground transfers in air-conditioned vehicle.
Superior accommodations throughout as indicated or similar.
Domestic flights between Lima/Cuzco/Maldonado/Lima.
Local guides throughout.
All meals as specified above.
All attraction and park entry fees.
All applicable hotel and lodge taxes and gratuities for baggage handling.
Complimentary baggage tags.
Emergency evacuation insurance.
The only thing predictable about Peru's weather is its unpredictability. In fact, it's not uncommon to experience all four seasons in a single day. Generally speaking, Peru has two seasons, wet and dry, but in a country as geographically diverse as Peru, local weather patterns vary greatly. In the highlands, the dry season is between June and October. The desert coast is arid. From January to March the sky is clear and the air tends to be hot and sticky. Peruvians go to the beach at this time. The rest of the year the gray coastal mist known as garua moves in. The Amazon experiences rain, heat and more rain and heat – the wettest months are December through May, but even then, it rarely rains for more than a few hours at a time and the water levels are high, meaning you do more boat activities, as opposed to the dry month when you can do more trekking.