Peruvian Amazon – The Mighty Amazon & Incan Empire
Price Starting at $6,695.00
Categories: Central & South America, Peru
Itinerary Upload File:
Product Banner Image: , ,
Departure Date and Year:
Products Link PDF:
Products Link PPT:
Peru is a place blessed with a deep rich history and an astonishing breadth of natural beauty. Begin in Lima, where you explore colonial mansions and view priceless collections of Incan Artifacts. Fly into one of the broadest expanses of rainforest in the world to cruise the Amazon River. See pink river dolphins navigating the waters, and watch as endangered manatees are cared for at the Manatee Rescue Center. Fish for piranha, and go on a night safari in search of caiman and fish bats. Experience life along the river with visits to traditional villages whose inhabitants find sustenance by the bounty of the jungle and the river that feeds it. Enjoy a cooking lesson, and feast on delectable cuisine with fresh produce prepared daily for you. Peru is an experience that cannot be described, only felt, and the mighty Amazon will thrill you.
Degree of Difficulty –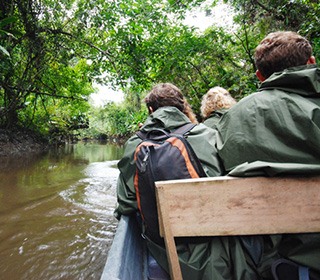 Prices vary by season and package. Please inquire by phone at (800) 627-1244 or email info@classicescapes.com for more information and a pricing estimate.
YOUR JOURNEY INCLUDES:
Roundtrip flights between Lima and Cusco on the post-extension.
First class accommodations at hotels and cruise ship.
Breakfasts Daily. All meals while on the Amazon River cruise. All other meals as specified.
5-Days/4-Nights Cruise aboard the M/V DELFIN III with all meals included. Naturalist guides provided aboard the ship. Accommodations are in double, air-conditioned outside cabins with private facilities, based on Suite Stateroom. Upgrades are available at additional cost.
Gratuities for baggage handling, hotel tips and taxes.
Port charges.
All entrance fees to places of interest visited and on sightseeing tours indicated in the itinerary.
Complimentary passport wallet and baggage tags.
Complimentary emergency evacuation insurance.
The only thing predictable about Peru's weather is its unpredictability. In fact, it's not uncommon to experience all four seasons in a single day. Generally speaking, Peru has two seasons, wet and dry, but in a country as geographically diverse as Peru, local weather patterns vary greatly. In the highlands, the dry season is between June and October. The desert coast is arid. From January to March the sky is clear and the air tends to be hot and sticky. Peruvians go to the beach at this time.
The rest of the year the gray coastal mist known as garua moves in. The Amazon experiences rain, heat and more rain and heat – the wettest months are December through May, but even then, it rarely rains for more than a few hours at a time and the water levels are high, meaning you do more boat activities, as opposed to the dry month when you can do more trekking.