Brazil & the Pantanal – Jaguars, Tapirs & Hyacinth Macaws
Price Starting at $12,095.00
Categories: Brazil, Central & South America
Itinerary Upload File:
Product Banner Image: , , , ,
Products Link PDF:
Departure Date and Year:
Products Link PPT:
Explore the Pantanal, a UNESCO World Heritage Site and Biosphere Reserve, one of South America's premier wildlife sanctuaries. With an area of 54,000 mi² and located in the center of the continent, the Pantanal is a biogeography mixing bowl containing elements of the Amazon Forest, Caatinga, Brazilian Savannah, Atlantic Rainforest and Paraguayan Chaco. This area is an unparalleled wildlife reserve of spectacular beauty, an ecological paradise containing hundreds of species of birds, thousands of varieties of butterflies, myriads of brightly colored flowers, and shoals of fish. Capuchin and howler monkeys, capybaras, toucans, anacondas, caimans, tapirs, giant anteaters and elusive jaguars help create an aquatic and sylvan theater of sights and sounds. Couple it with two amazing optional extensions to Rio de Janeiro, and one of the most spectacular Falls in the world, Iguassu, and you have the makings of a truly unique adventure.
Degree of Difficulty –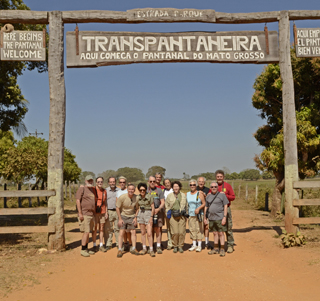 Prices vary by season and package. Please inquire by phone at (800) 627-1244 or email info@classicescapes.com for more information and a pricing estimate.
YOUR JOURNEY INCLUDES:
Chartered flight between Porto Jofre and Posada Caiman in light aircraft.
Flights between Sao Paulo and Iguassu Falls on the pre-extension.
Flight between Campo Grande and Rio de Janeiro on the post-extension.
Superior accommodations throughout as indicated or similar.
Breakfast daily; other meals as indicated in itinerary, including welcome dinner at the Figuira Rubaiyat.
All transfers in air-conditioned motor coach or minibus.
Visits to Conservation projects at Caiman Ecological Refuge.
Visit to Golden Lion Tamarin Conservation Project on Rio extension.
Specialist guide throughout with 10 travelers on main trip and extensions.
Complimentary bottled water in vehicles and at meals.
All applicable hotel/lodge taxes and gratuities for baggage handling.
All entry fees.
Complimentary baggage tags and passport wallet.
Complimentary emergency evacuation insurance.
The Pantanal is an alluvial plain governed by periodic flooding. The dry season is between April/May and September/ October. The best time for birdwatchers is from July to September, when birds are at their rookeries in great numbers, the waters have receded and the bright-green grasses pop up. In September and October, the driest two months, the chances for spotting jaguar rise dramatically – the Pantanal is the last great stronghold for the biggest and most elusive of the American cats. Temperatures are hot by day and cool by night, with occasional short bursts of rain. Porto Jofre is open between July and October, as it can be very rainy any other time in that area. Therefore, our program is offered July through October, only. The program could be amended to travel at other times of the year as Pousada Araras is open year-round, but in this casePorto Jofre area cannot be included.