New Orleans, Louisiana – Food, Jazz & Nature in the Big Easy
Price Starting at $4,195.00
Category: North America
Itinerary Upload File:
Product Banner Image: , , ,
Products Link PDF:
Departure Date and Year:
Products Link PPT:
Tennessee Williams once opined "America has only three cities: New York, San Francisco, and New Orleans." Referred to as the Big Easy, New Orleans is a dish of a city in many respects. It rests below the water level of the Mississippi, a veritable bowl, filled with a stew of cultural influences with a bouquet of creativity. It is a dish to be tasted, taken in through the ears in the form of punctuated jazz notes; through the nose in the textured essence of its Cajun and Creole cuisine, and through the eyes in the form of its wonderful nature reserves, innovative Audubon Zoo and Aquarium, and the balmy patina of the French Quarter. In any respect, it is a dish to be relished!
Degree of Difficulty –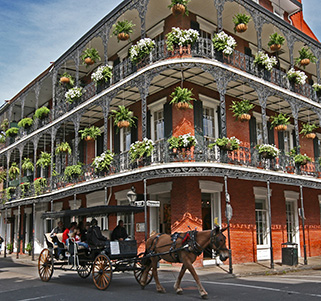 Prices vary by season and package. Please inquire by phone at (800) 627-1244 or email info@classicescapes.com for more information and a pricing estimate.
Maximum group size: 20 travelers.
YOUR JOURNEY INCLUDES:
Accommodations throughout as indicated, or similar.
American breakfast daily; all other meals as indicated.
The tour is lead at all times by an experienced driver/guide. In addition, local guides will join the group as specified.
Airport transfers.
Transportation in 15-passenger Ford minibus. A maximum of 9 passengers will be accommodated per minibus.
All park and admission fees
All applicable hotel gratuities and taxes.
Complimentary baggage tags.
Having a subtropical climate, New Orleans is very pleasant during the Spring and Fall and very hot and humid during the summers. The winters are cool, but daily averages are generally in the low 60's. Our program is offered year-round, but the ideal times to visit would be October through April. Our extension goes into Memphis, Tennessee, and the weather there is similar to New Orleans.