Kenya Unmatched – Safari Mystique Under African Skies
Price Starting at $6,895.00
Imagine waking to the sounds of a trumpeting elephant and feeling the roar of a lion coursing through your body… forget to breathe while watching a leopard stalking prey… delight in the delicate treetop munching of a giraffe. You don't have to imagine when you're on safari! Experience Kenya, the original safari destination and home to beautiful landscapes and vibrant wildlife. Explore the amazing wildlife of Sweetwaters at Ol Pejeta Conservancy and look for water birds at the shores of Lake Nakuru. Watch an endless parade of animals come to the waterhole at your 'tree hotel' and spend three days roaming the rolling hills of the Maasai Mara in search of wildebeest, zebra, impala, gazelle, cheetah and rhino. Each evening, share the day's events while relaxing in luxurious lodges and tented camps underneath the starlit skies of Africa.
Degree of Difficulty –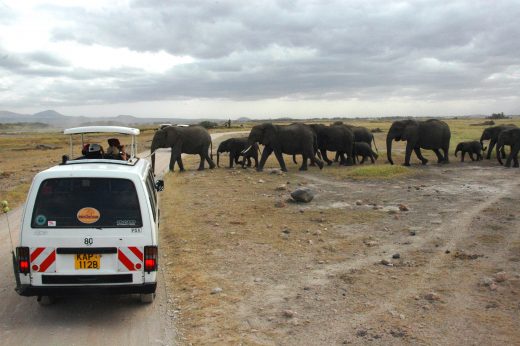 Prices vary by season and package. Please inquire by phone at (800) 627-1244 or email info@classicescapes.com for more information and a pricing estimate.
Maximum group size:Although larger groups can be accommodated, we recommend 24 travelers (4 minibuses).
YOUR JOURNEY INCLUDES:
Superior accommodations throughout as indicated or similar.
American breakfast in Nairobi and all meals on safari.
All wildlife viewing by private minibus driven by a naturalist driver/guide.
Complimentary bottled water in vehicles and with meals.
Professional naturalist with a minimum of 10 travelers
All applicable hotel/lodge taxes and gratuities for baggage handling.
All park entry fees.
Complimentary baggage tags and passport wallet.
Complimentary emergency evacuation insurance.
Kenya is located on the Equator. The temperature, therefore, does not vary too much. During our summer months – their winter (June through August) it is about 10 degrees cooler, but days will be warm and can reach 80's and evenings can be cool and can drop to the 40's in the higher elevations. The rainy season is in April/May (long rains) and November (short rains). However, it does not rain every day, or all day, and rainstorms are quickly followed by brilliant sunshine which makes for incredible photographic opportunities. Wildlife viewing is good year-round; however, the migration of zebra and wildebeest follow this cycle:
January-March – southern sector of the Serengeti in Tanzania
April-June – central Serengeti in Tanzania
July – western corridor of the Serengeti in Tanzania
August-October – northern Serengeti and mostly into Maasai Mara in Kenya
November-December – returning back to Serengeti in Tanzania and making their way to the southern sector