Great Escapes: Kenya – The Original Safari Destination
Follow in the footsteps of the great adventurers of the past on a safari in the place that gave birth to the term. Escape to the wilds of Kenya, where you'll come face to face with the quintessential beasts of the African bush, including lion, elephant, hippo, zebra, giraffe, and more. Learn about the people who have made this place home, from the environmentalists who devote their lives to rescuing orphaned elephants to the nomadic tribal peoples who have roamed the land for centuries. Go on the original safari and return home forever changed.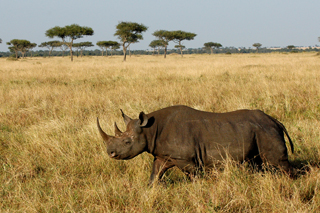 YOUR JOURNEY INCLUDES:
Superior accommodations throughout as indicated or similar.
American breakfast in Nairobi; all meals while on safari; other meals as indicated.
Roundtrip airport transfers in Nairobi.
All wildlife viewing by minibus, driven by a naturalist driver/guide with guaranteed window seat.
All park entry fees.
All applicable hotel and lodge taxes.
Complimentary bottled water in vehicles.
Complimentary luggage tags.
Emergency evacuation insurance.
Kenya is located on the Equator. The temperature, therefore, does not vary too much. During our summer months – their winter (June through August) it is about 10 degrees cooler, but days will be warm and can reach 80's and evenings can be cool and can drop to the 40's in the higher elevations. The rainy season is in April/May (long rains) and November (short rains). However, it does not rain every day, or all day, and rainstorms are quickly followed by brilliant sunshine which makes for incredible photographic opportunities. Wildlife viewing is good year-round; however, the migration of zebra and wildebeest follow this cycle:
January-March – southern sector of the Serengeti in Tanzania
April-June – central Serengeti in Tanzania
July – western corridor of the Serengeti in Tanzania
August-October – northern Serengeti and mostly into Maasai Mara in Kenya
November-December – returning back to Serengeti in Tanzania and making their way to the southern sector