Rwanda – A Bevy of Primates in the 'Country of a Thousand Hills'
Price Starting at $9,595.00
Categories: East Africa, Sub-Saharan Africa
Itinerary Upload File:
Product Banner Image: , , ,
Products Link PDF:
Departure Date and Year:
Products Link PPT:
Explore Rwanda and immerse yourself in a verdant world of emerald hills and lush tropical rainforest; this mist-shrouded habitat is home to the majestic mountain gorilla. Rwanda's thickly forested Volcanoes National Park is home to an estimated one-half of the world's remaining mountain gorillas. This is where Dian Fossey did her groundbreaking work which ultimately leads to the conservation of these gentle giants—a story brilliantly retold in the book and award-winning film, Gorillas in the Mist. But Rwanda is much more than the home of gorillas—wildlife of an astonishing variety abounds here. With hippos, elephants, a selection of other primates and antelope inhabiting its protected areas, and a staggering selection of jewel-colored birds in the trees above, Rwanda has become a model for other African countries, and is one of Africa's top must-see destinations.
Degree of Difficulty –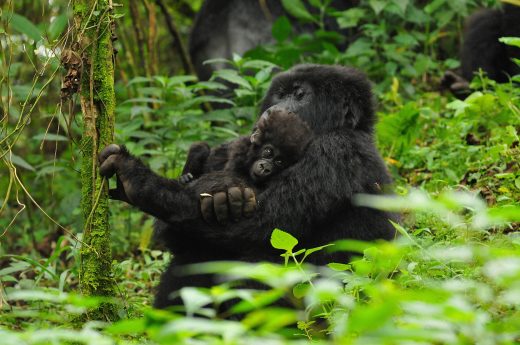 Prices vary by season and package. Please inquire by phone at (800) 627-1244 or email info@classicescapes.com for more information and a pricing estimate.
In addition to the costs, following current costs (subject to change) apply for permits
For Main Program: Gorilla Permit – $1,500, plus $20 for the porter; Golden Monkey Visit – $100, plus $20 for the porter; Karisoke visit – $75, plus $20 for the porter
At Nyungewe Forest: Chimp Permit – $90, plus $20 for the porter; Canopy Walk permit – $60, plus $20 for the porter; Forest Walk permit – $50, plus $20 for the porter
Maximum group size: 16 travelers. Ruzizi only has 8 tents.
YOUR JOURNEY INCLUDES:
Superior accommodations throughout as indicated or similar.
Professional Naturalist with a minimum of 10 travelers on both main and extension programs.
All meals while on safari. Other meals as specified in itinerary.
All wildlife viewing by 4X4 open land cruisers, driven by professional driver/guides.
Complimentary bottled water in vehicles.
All applicable hotel and lodge taxes and gratuities for baggage handling.
All park entry fees.
Complimentary baggage tags and passport wallet.
Complimentary emergency evacuation insurance.
Mountainous Rwanda has been dubbed "the country of a thousand hills" and is good to visit any time of the year. When gorilla trekking, it's not uncommon to encounter rain. After all, you are in the rainforest and it rains quite a lot, but that will not stop you from trekking to see the gorillas. The rainy season overall in the country follows the East Africa pattern – long rains mid -March through May, and short rains in November. Gorilla viewing is actually better during the rainy season, as they're generally feeding in lower elevation and can be viewed with less trekking. However, this can never be guaranteed – neither can one guarantee 100% success in viewing the gorillas, although they're almost always sighted.