Uganda – Primate Safari to "The Pearl of Africa"
Price Starting at $10,395.00
Categories: East Africa, Sub-Saharan Africa
Itinerary Upload File:
Product Banner Image: , , ,
Products Link PDF:
Departure Date and Year:
Products Link PPT:
Discover Uganda – known as the 'Pearl of Africa' by British explorers – a country noted for outstanding beauty and diversity – from the ethereal Mountains of the Moon to open savannahs and impenetrable forests. Uganda is the center of Africa's own "Great Lakes" system. All that water has produced a country of verdant landscapes and thick forests, while the dark, rich soils support all manner of life. It is in these densely packed forests that Uganda's most famous residents reside — the awe-inspiring mountain gorilla. These powerful and intelligent animals will often view you with as much scrutiny and curiosity as you are viewing them. Uganda is a realm where humans are the visitors, and visitation is a privilege.
Degree of Difficulty –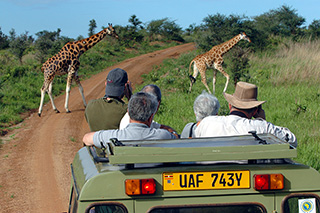 Prices vary by season and package. Please inquire by phone at (800) 627-1244 or email info@classicescapes.com for more information and a pricing estimate.
In addition to the costs, following current costs (subject to change) apply for permits
For Main Program: Gorilla permit – $700 each, plus $20 for the porter, Chimp permit – $200 each, plus $20 for the porter.
Rwanda Extension: Gorilla Permit – $1,500, plus $20 for the porter; Golden Monkey Visit – $100, plus $20 for the porter; Karisoke visit – $75, plus $20 for the porter
Maximum group size: 16 travelers – Ndali and Mahogany Springs only have 8 cottages each.
YOUR JOURNEY INCLUDES:
Flight between Bwindi and Entebbe on the main trip.
All meals while on safari in Uganda and Rwanda (B=breakfast, L=lunch, D=dinner).
Wildlife viewing in specially-designed 4-wheel drive safari vehicles, with open roof viewing hatches for wildlife viewing and photography. A window seat is guaranteed. Chimpanzee and gorilla trekking will be made on foot.
Complimentary bottled water in vehicles
Professional naturalist on main tour and extension with a minimum of 10 travelers
Gratuities for baggage handling, hotel tips and all applicable hotel and lodge taxes.
National Park and Reserves entry fees.
Complimentary baggage tags and passport wallet.
Complimentary emergency evacuation insurance.
Uganda is a beautiful country and lovely to visit any time of the year. When gorilla trekking, it's not uncommon to encounter rain. After all, it is the rainforest you will be visiting and it rains quite a lot, but that will not stop you from trekking to see the gorillas, just have adequate raingear and hiking boots. The rainy season overall in the country follows the East Africa pattern – long rains in April/May, and short rains in November. Gorilla viewing is actually better during the rainy season, as they're generally feeding in lower elevation and can be viewed with less trekking. However, this can never be guaranteed – neither can one guarantee 100% success in viewing the gorillas, although they're almost always sighted.