Tanzania – The Mysterious Wonderland of Hemingway's Africa
Price Starting at $8,995.00
Discover quintessential Africa when you take a walk on the wild side in Tanzania. A relaxed attitude combined with some of the best reserves and parks on the continent is the ultimate in safari chic. Your safari hits the most intriguing spots, from Tarangire with its enormous elephant herds, to the vast savannahs of the Serengeti, the roots of modern man at Olduvai Gorge, and the unique eco-system of Ngorongoro Crater. This is a slice of Africa where animal is king and the landscape free from modern encroachment. With more land devoted to wildlife than anywhere else in the world, this is truly a safari paradise. Pampering is the norm on this safari as your camps evoke a romantic reminiscence of yesteryear.
Degree of Difficulty –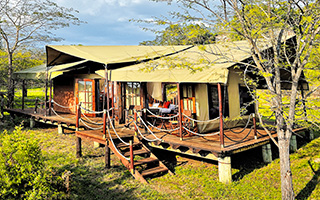 Prices vary by season and package. Please inquire by phone at (800) 627-1244 or email info@classicescapes.com for more information and a pricing estimate.
PRICING: Per person, based on double occupancy
2020
Jan 1-Feb 18; Jun 1-30

$10,695

Mar 1-31; Nov 1-Dec 19

$10,395

Apr 1-May 31

$8,995

Jul 1-Oct 31 & Dec 20-31

$10,995
2021
Jan 1-Feb 18; Jun 1-30

$10,995

Mar 1-31; Nov 1-Dec 19

$10,795

Apr 1-May 31

$9,295

Jul 1-Oct 31 & Dec 20-31

$11,495
Maximum group size: 24 travelers. Pioneer Camp only has 12 luxury tents.
YOUR JOURNEY INCLUDES:
Flight between the Serengeti and Arusha on the main trip.
Flight between the Serengeti and Zanzibar on the post extension.
Superior accommodations throughout.
All meals on safari and in Zanzibar.
All wildlife viewing by 4×4 vehicles, driven by a naturalist guide. A window seat is guaranteed.
Complimentary bottled water in vehicles and at meals.
Professional naturalist will accompany the group with 10 travelers.
All applicable hotel/lodge taxes and gratuities for baggage handling.
All park entry fees
Complimentary baggage tags and passport wallet.
Complimentary emergency evacuation insurance.
Tanzania is located close to the Equator. The temperature, therefore, does not vary too much. During our summer months – their winter (June through August) it is about 10 degrees cooler, but days will be warm and can reach the 80's and evenings can be cool and can drop to the 40's in the higher elevations. Most programs include some high elevation spots – the rim of the crater is at 7,500 feet. The rainy season is in April/May (long rains) and November (short rains). However, it does not rain every day, or all day, and rainstorms are quickly followed by brilliant sunshine which makes for incredible photographic opportunities. Wildlife viewing is good year-round, however the migration of zebra and wildebeest follow this cycle:
January-March – southern sector of the Serengeti and the animals are massing and giving birth to their young
April-June – central Serengeti and the animals begin to move
July – western corridor of the Serengeti and on the move towards Kenya
August-October – northern Serengeti and mostly into Maasai Mara in Kenya
November-December – returning back to the Serengeti and making their way to the southern sector
Zanzibar follows a similar pattern with rains (longer rains in April & May with short rains in November) but it does not rain every day or all day, rather short showers. Being so near the equator, Zanzibar is tropical year-round, but in summer (December/January) it's usually windy, so there are pleasant sea breezes.