Tampa & Crystal Bay, Florida – Swimming with the Manatees
Price Starting at $2,895.00
Categories: Florida, North America
Itinerary Upload File:
Product Banner Image: , ,
Products Link PDF:
Departure Date and Year:
Products Link PPT:
Pure waters and peaceful winds are hallmarks of the freshwater attractions of the Sunshine State. While its beaches may attract the most tourists, the hidden gems where manatees glide, tortoises sun, and herons graze the shores are the places that draw locals for that little slice of paradise that Florida promises its denizens. The West Indian Manatee might not be Florida's official state animal (a distinction which belongs to the Florida Panther), but it is certainly the creature most lauded by local conservationists, visited by local schoolchildren, and protected by local environmental efforts. Get to know the manatee like an old friend, from learning about their diets and healthcare to swimming alongside them in perfectly clear turquoise springs, surrounded by lush mangroves and the glimmer of an ever-shining sun. Discover the natural beauty of Florida, and befriend nature itself on this remarkable journey.
Degree of Difficulty –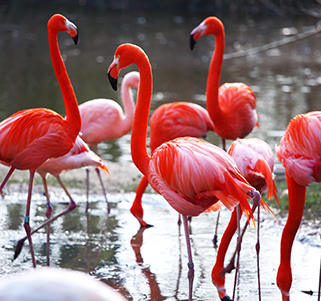 Prices vary by season and package. Please inquire by phone at (800) 627-1244 or email info@classicescapes.com for more information and a pricing estimate.
Maximum group size: No restrictions, although we recommend a maximum of 35 travelers.
YOUR JOURNEY INCLUDES:
Superior accommodations throughout as indicated or similar.
Deluxe minibus driven by experienced driver/guide.
Tampa's Lowry Park Zoo entrance.
Florida Aquarium.
Evening Manatee presentation by Bob Bonde, duties permitting.
Swim with the manatees includes boat, wetsuit, snorkel, fins, and Bob Bonde as the guide, duties permitting.
Homosassa Springs State Park guided tour.
Busch Gardens visit.
All meals as specified in itinerary.
All park entry fees.
Complimentary baggage tags.
The weather in Florida is warm or hot throughout the year. Winters are a bit cooler and drier between December and February. Summers can be very humid and hot, especially between June and October. This is also the time that there is more rainfall in the form of thunderstorms. Both Florida programs are best during the winter months. Swimming with the Manatees in Crystal River is best between November and April, also a good time to visit the Everglades.