Florida – Beaches & Gators in the Sunshine State
Price Starting at $5,595.00
Categories: Florida, North America
Itinerary Upload File:
Product Banner Image: , ,
Products Link PDF:
Departure Date and Year:
Products Link PPT:
Embark on a journey through the ecological heart of Florida, known for its sunny beaches, crystal clear waters, and of course, the mysterious Everglades. Start in Key West, a place as famous for its key lime pie as it is for its remarkable history. Hop over the water to other keys, where you'll find wildlife refuge centers, national monuments, delightful marine life, and natural splendor. Back on the Florida mainland, prepare to delve into one of the most unique ecosystems on the planet, the Everglades. Whether you're in search of alligator, manatee, or simply bird-watching, you'll find it in the thick sawgrass brush of Florida's biggest estuary. Travel via canoe, airboat, tram, and more to part the veil on this mysterious place and get a taste of its hidden treasures. Wrap up your trip hunting for the most beautiful seashells on the pristine beaches of Sanibel Island. You'll come home with unbeatable stories to tell and a golden tan, compliments of the Florida sun.
Degree of Difficulty –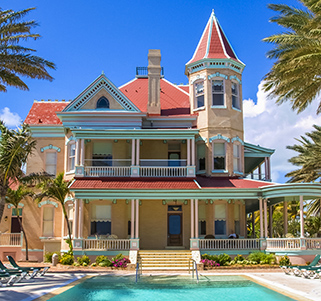 Prices vary by season and package. Please inquire by phone at (800) 627-1244 or email info@classicescapes.com for more information and a pricing estimate.
Maximum group size: No restrictions, although we recommend a maximum of 24 travelers.
YOUR JOURNEY INCLUDES:
Superior accommodations throughout as indicated or similar.
Transfers between airport and Miami hotel, as well as Ft. Myers Hotel and Airport. (Please note one group transfer will be supplied each way. Anyone not arriving on group schedule, will require a personal transfer at additional cost.)
All transfers and excursions by private vehicle.
Services of driver/guides throughout the tour.
American breakfast daily; other meals as indicated in itinerary.
All applicable hotel and lodge taxes and gratuities.
All attraction admission fees.
Service projects as per itinerary.
Complimentary baggage tags.
The weather in Florida is warm or hot throughout the year. Winters are a bit cooler and drier between December and February. Summers can be very humid and hot, especially between June and October. This is also the time that there is more rainfall in the form of thunderstorms. Both Florida programs are best during the winter months. Swimming with the Manatees in Crystal River is best between November and April, also a good time to visit the Everglades.