Hawaii – Seascapes in the Land of Aloha
Price Starting at $7,195.00
Category: North America
Itinerary Upload File:
Product Banner Image: , , ,
Products Link PDF:
Departure Date and Year:
Products Link PPT:
Say "Aloha" to the enchanted beauty of Hawaii on this exploration of some of its most captivating places. Begin in Molokai, a beachy enclave with authentic Polynesian flavor, then board your luxury yacht, the Safari Explorer, to head out onto the turquoise waters in search of the magnificent and memorable. This adventure will take you into the local mythos, with village visits to hear the lore from locals and excursions into the sites that have inspired Hawaiians for generations. Peek into the secret world beneath the waves as you snorkel through brightly colored coral, kayaking out into places that teem with tropical fish, and watching whales breech the surface from the railing of your ship. This is a journey of land and sea, where the heart of Hawaii will become part of you forever.
Degree of Difficulty –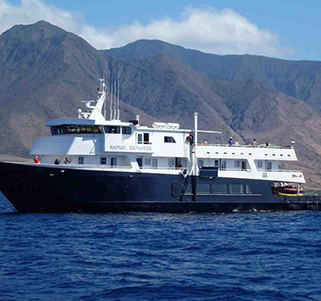 Prices vary by season and package. Please inquire by phone at (800) 627-1244 or email info@classicescapes.com for more information and a pricing estimate.
Maximum group size: Due to the size of the vessel, 36 travelers is the maximum.
YOUR JOURNEY INCLUDES:
Superior accommodations at hotels as indicated in the itinerary (or similar).
American breakfast throughout. All other meals as specified in the itinerary.
8-Days/7-Nights Cruise aboard the Safari Explorer with all meals included. Accommodations are in double cabins with private facilities on Category Master. Upgrades are available at additional cost.
Visit with a local Kahuna in Molokai's ancient Halawa Valley.
Marine life search in the Humpback National Marine Sanctuary.
Evening pai'na (feast) and Hawaiian jam session with Molokai locals.
Snorkel among coral gardens and at a sea turtle habitat.
Night snorkel with Giant Pacific Manta rays.
Island history at Lana'i Culture and Heritage Center.
Snorkeling, kayaking, paddle boarding, and skiff exploration.
All transfers.
Port taxes.
Gratuities for baggage handling, hotel tips and taxes.
Complimentary baggage tags and passport wallet.
Hawaii has a semi-tropical weather pattern with temperatures ranging between 75° and 90° F year-round in the daytime, dropping by 5° or so at night. The weather is greatly influenced by the trade winds which provide a cooling effect. Topical rain showers can occur at any time of the year, but are more prevalent between November and February, which is technically the rainy season; however, the weather is so topical, that even if it rains in one area, it might be bright and sunny just a few miles away. Our Hawaii program operates between November through April.