Washington, District of Columbia – A Journey Through America's History
Price Starting at $4,395.00
Our nation's capital reflects all the history of America with remarkable monuments, museums and landmarks. Located along the Potomac River, Washington was founded on July 16, 1790. This dynamic city was established by the U.S. Constitution to be the new nation's capital, and commissioned by President Washington to Pierre Charles L'Enfant to design it. Washington has been at the center of the history of the United States, and has experienced many phases – from the burning of the city in 1812 by the British, to the Civil Rights rallies and Dr. Martin Luther King Jr.'s historic speech at the Lincoln Memorial, and all the presidential inaugurations with their pomp and circumstance. On this tour, you will visit many of the monuments and experience the local culture, politics and food. From the Supreme Court and White House, to Arlington National Cemetery and Smithsonian Institute, and to the Civil Rights Trail, you will understand why this city is so important, and why our nation is the beacon of freedom and civil liberties, and the most influential country around the world!
Degree of Difficulty –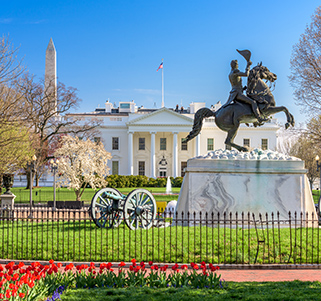 Prices vary by season and package. Please inquire by phone at (800) 627-1244 or email info@classicescapes.com for more information and a pricing estimate.
Maximum group size: No restrictions, although we recommend a maximum of 35 travelers.
YOUR JOURNEY INCLUDES:
Superior accommodations throughout as indicated or similar.
Transfers from Airport to the hotel. (Please note one group transfer will be supplied each way. Anyone not arriving on group schedule, will require a personal transfer at additional cost.)
All transfers and excursions by private vehicle.
Services of driver/guides throughout the tour.
American breakfast daily; other meals as indicated in itinerary.
All applicable hotel taxes and gratuities for baggage handling.
All attraction admission fees.
Complimentary baggage tags.
Although located in the middle of the Mid-Atlantic region, the climate here is more temperate, influenced by the South. Washington enjoys four seasons, with the coldest months being January and February. Springtime is awesome with wildflowers and the famous cherry trees in bloom. Summer can be hot and humid, especially in July and August. The Fall can be spectacular with the foliage on display. This destination is best visited in the Spring and Fall.