Egypt & the Nile – Wild & Pharaonic Treasures in the "Two Lands"
Price Starting at $7,995.00
Unravel ancient mysteries on a cultural and wildlife journey through the shifting sands of Egypt. Marvel at the legendary pyramids of Giza, the birds in the Fayoum Oasis and the incredible undersea world at Ras Mohammad National Park. Cruise down the Nile River aboard the M/S ROYAL LILY, visiting the Aswan High Dam, the Horus on Edfu and the ancient city of Thebes. Experience a sunrise over Mount Sinai and relax each evening in beautiful palace hotels that reflect the majesty of pharaohs, kings and queens. This is a journey for the ages, one that every intrepid traveler will cherish for a lifetime to come.
Degree of Difficulty –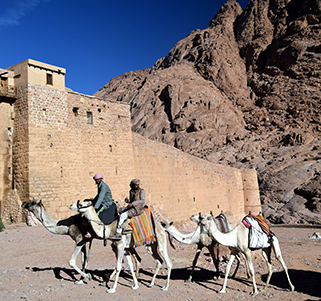 Prices vary by season and package. Please inquire by phone at (800) 627-1244 or email info@classicescapes.com for more information and a pricing estimate.
YOUR JOURNEY INCLUDES:
Flights between Cairo/Abu Simbel/Aswan and Luxor/Sharm el Sheik/Cairo.
Superior accommodations throughout as indicated or similar.
4-Days/3-Nights Nile Cruise aboard the M/S SONESTA ST. GEORGE or similar.
Professional Egyptologist with a minimum of 10 travelers and nature specialist guide.
Welcome and Farewell Dinners; breakfast daily; lunch on tour days and all meals on Nile Cruise; breakfast/dinner in Sharm El Sheik.
Sightseeing by private car or motor coach.
All applicable hotel taxes and gratuities for baggage handling.
Complimentary baggage tags and water bottle.
Complimentary emergency evacuation insurance.
There are basically two seasons in Egypt: a relatively cool season that lasts November-March (by far the better touring season) and a hot season April-October. The Red Sea coast has fewer extremes and is nice year-round. In the spring (especially late March to early April), sand and dust storms called khamsin blow in and can reduce visibility (sometimes even in Cairo) to less than 100 feet.