Egypt & the Nile – Follow the Path of the Pharaohs
Price Starting at $7,995.00
Few places on earth embody the romance of history as well as Egypt where Pharaohs built monuments to last for eternity, and intrepid explorers uncovered their secrets beneath the sands. Here, the roots of Judaism, Christianity and Islam intertwine deeply in the desert soil. Pictures belly the power of a first-hand experience of the scale and grandeur of the temples, tombs and relics of ancient Egypt. Explore some of the most iconic structures ever built in Cairo, Luxor, and Aswan. Set out on a dahabeya – a small, private vessel evoking old-world glamour – and spend a full week sailing the heart's blood of Egypt, the magnificent Nile River, on a journey through time that you will never forget and always cherish!
Degree of Difficulty –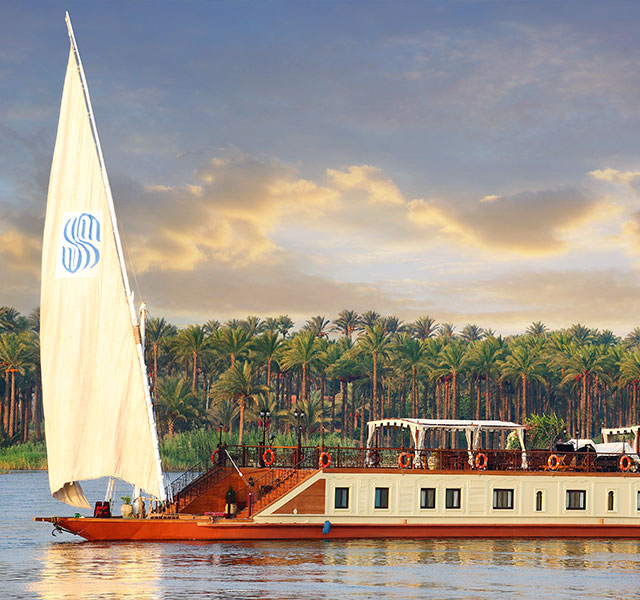 Prices vary by season and package. Please inquire by phone at (800) 627-1244 or email info@classicescapes.com for more information and a pricing estimate.
YOUR JOURNEY INCLUDES:
Flights between Cairo/Abu Simbel/Aswan, and Luxor/Cairo.
Flight between Cairo and Amman on the post extension.
Superior accommodations throughout as indicated or similar.
8-Day/7-Night Nile cruise aboard the SONESTA AMIRAT DAHABEYA or similar.
Welcome and Farewell Dinners; breakfast daily; lunch on tour days and all meals on Nile Cruise.
English-speaking expert Egyptologist throughout and English-speaking guide during Jordan extension.
Sightseeing by private motor coach.
All applicable hotel and lodge taxes and gratuities for baggage handling.
All entry fees.
Complimentary passport wallet and baggage tags.
Complimentary emergency evacuation insurance.
There are basically two seasons in Egypt: a relatively cool season that lasts November-March (by far the better touring season) and a hot season April-October. The Red Sea coast has fewer extremes and is nice year-round. In the spring (especially late March to early April), sand and dust storms called khamsin blow in and can reduce visibility (sometimes even in Cairo) to less than 100 feet.