Botswana – Endless Horizons in the Land of the San
Price Starting at $9,195.00
Discover a wealth of natural phenomena in the contrasting wonder of Botswana. Lose yourself in the sparkling and endless horizons along the ancient Makgadikgadi Salt Pans, where the ground beneath you glimmers in the sunlight. Float through the earthy bounty of the Okavango Delta, the planet's largest inland water system, visible from outer space. Encounter some of the most incredible and elusive wildlife on Earth, including lion, leopard, elephant, zebra, Cape buffalo, and more. See the unpolluted galaxy around you by night in the stars above as exotic nocturnal beasts prowl nearby. Learn the ancient ways of the San Bushmen, who have found water in the desert and game in this barren land for 30,000 years. Let this remarkable place take hold of you, and create experiences you will never forget.
Degree of Difficulty –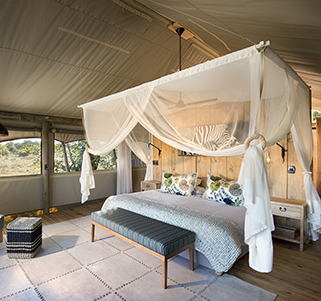 Prices vary by season and package. Please inquire by phone at (800) 627-1244 or email info@classicescapes.com for more information and a pricing estimate.
Maximum group size: 18 travelers. Meno A Kwena and Mapula only have 9 units each.
YOUR JOURNEY INCLUDES:
Flights between Maun and all camps.
Flight between Livingstone/Johannesburg on the post extension.
Flight between Cape Town and Johannesburg on the pre-extension.
Superior accommodations throughout as indicated or similar.
All meals while on safari. Other meals as specified in itinerary.
Bottled water in vehicles during touring and safaris.
Laundry and all domestic beverages (beers, juices, house wines, sodas and some domestic liquors, excluding Champagne and premium brands) at camps in Botswana and on the Victoria Falls post-extension.
All wildlife viewing by 4X4 vehicles, driven by professional rangers.
Specialist guide will accompany the group with a minimum of 10 travelers on the main program and on either extension.
All applicable hotel and lodge taxes and gratuities for baggage handling.
All park entry fees and sightseeing as specified.
Complimentary baggage tags and passport wallet
Complimentary emergency evacuation insurance.
Botswana can be visited year-round. June-August is Botswana's winter and the mornings and evenings can be quite cold, the water levels are at their highest, and it is generally considered high season. However, the off-peak season also offers spectacular wildlife viewing and the pricing is best during that time of year.
At Victoria Falls, the water levels are high January-July on the Zambian side and diminish after that. For best viewing of the Falls, we recommend that travelers visit the Zimbabwe side between August and the end of the year – this tour can very easily be arranged at an additional cost if staying at the Zambian side of the Falls.
Summer in Cape Town (December through March) can be quite hot during the day, but it's never uncomfortable as humidity is relatively low. Autumn (April/May) is warm with sunny days and lovely nights – and the best time to visit Cape Town. It can be rainy in Cape Town during winter (June-August), but it's always pleasant and there are plenty of activities to be enjoyed no matter the weather. Spring (September-October) can be warm, but the evenings do cool off. This is another lovely time to visit Cape Town as it is not windy, the weather is lovely and the wild flowers are in profusion. Overall, the winters are mild, spring and autumn fantastic, and the summers comfortable; Cape Town can be visited during any time of the year.