Newfoundland, Canada – Whales, Puffins & Icebergs
Price Starting at $5,795.00
Categories: Canada, North America
Itinerary Upload File:
Product Banner Image: , , ,
Products Link PDF:
Departure Date and Year:
Products Link PPT:
Known as the "Seabird Capital of North America" and home to the largest concentration of the migrating humpback whales in the world, the island of Newfoundland is a bucket list destination for those discerning travelers who enjoy "nature viewing on a grand scale." This ruggedly beautiful island of majestic fjords and cliffs, pristine boreal forests, and diverse flora and fauna captivates all who venture here to immerse themselves in this place of old world charm, epic vistas and sophisticated charm. Estuaries of glacial rivers are populated by more than 35 million seabirds that gather here every year. When 10,000 year-old icebergs drift south along iceberg alley they meet up with a plethora of humpback whales enjoying a feeding frenzy from the fish off the Grand Banks with over 29 varieties of marine mammals. Pack your hiking boots, dress in layers, and witness this glorious rich and rewarding extraordinary Canadian destination: Newfoundland!
Degree of Difficulty –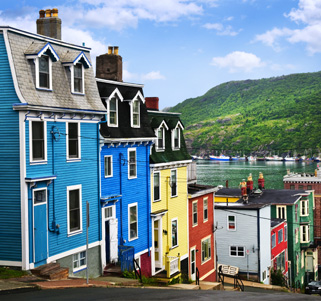 Prices vary by season and package. Please inquire by phone at (800) 627-1244 or email info@classicescapes.com for more information and a pricing estimate.
YOUR JOURNEY INCLUDES:
All hotels on this trip are chosen for their location, comfort and charm and are mostly 3 and 4 star hotels. All rooms are en suite with private facilities.
All meals as specified.
The tour is lead at all times by an experienced Canadian driver/guide, bilingual in English and French. In addition, local guides will join the group as specified.
Airport transfers.
Transportation in 15-passenger Ford minibus (from 5 to 8 travelers) or 24-passenger minibus (from 9 to 18 travelers.)
All park and admission fees.
All applicable hotel and lodge gratuities and taxes.
Complimentary baggage tags and passport wallet
Complimentary emergency evacuation insurance.
July and August in Newfoundland is warm and ofte n humid during the day – can reach the 80s, although nights by the water or at higher altitudes are cooler. June and September are more comfortabl e or fresh during the day and sometimes cold at night. The rest of the year would be cold and unpredictable and not recommended for travel. For the exten- sion, the weather is dominated by a maritime climate, that is to say, it is changeable, from moments of brilliant sunshine to t hick fog, to showers. Summer days range from cool to hot with a normal temperature of 61 degrees. In June and early July, fog is common and should be expected, whereas August and September are sunny, warm and sometimes windy. We can promise no scorching heat waves!