San Diego, California – Beauty and Conservation in California's Fair Weathered South
Price Starting at $4,595.00
Categories: California, North America
Itinerary Upload File:
Product Banner Image: , , ,
Products Link PDF:
Departure Date and Year:
Products Link PPT:
San Diego is a place of outstanding conservation and research activities related to the preservation of the world's rarest flora and fauna. This dedication is personified in the efforts of the San Diego Zoo, which has dedicated a substantial portion of its territory to preserving and preventing the extinction of endangered species. At the Torrey Pines State Park, rare plant species and stopovers for migrating birds are protected. Known primarily as an entertainment destination, SeaWorld is in fact a major funder of marine animal conservation and protection activities. These themes of conservation and preservation reverberate in the work being done in Quail Botanical Gardens, San Diego Wild Animal Park, Anza Borrego Desert State Park, and the California Wolf Center. A trip to San Diego is an experience in good stewardship of our world.
Degree of Difficulty –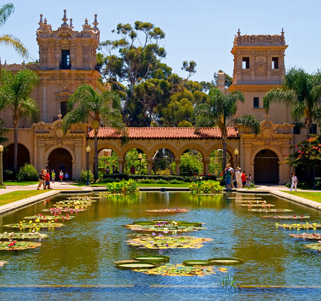 Prices vary by season and package. Please inquire by phone at (800) 627-1244 or email info@classicescapes.com for more information and a pricing estimate.
YOUR JOURNEY INCLUDES:
Accommodations throughout as indicated, or similar.
American breakfast daily; all other meals as indicated.
The tour is led at all times by an experienced driver/guide. In addition, local guides will join the group as specified.
Airport transfers.
Transportation in 15-passenger Ford maxi-van. A maximum of 9 travelers will be accommodated per van.
All park and admission fees.
All applicable hotel gratuities and taxes.
Complimentary baggage tags.
Often compared to the climate of the Mediterranean, California has warm, dry summers and mild, wet winters. On the coast, temperatures range between the low 40's to the high 80's. Further inland, summers are hot and dry, and at higher altitudes you can encounter the four seasons with cold, snowy winters. The three largest cities that are included in this program have very different climates. San Francisco is famous for its fog — especially in the summer, Los Angeles is known for its consistently sunny, desert-like, coastal climate, and San Diego for its ideal climate year-round. Our Culinary California program can be offered year-round. Our San Diego program is also a year-round destination, but the desert is best visited in the winter months and in particular in February through March when you could see the wildflowers blooming. Our Nature's Playground program is only offered in the summer months as it visits some high-altitude areas where the weather can set in starting in October and ending in May through June.