New Mexico & Colorado – Mountains, Deserts & Ranches of the Southwest
Price Starting at $8,095.00
Categories: Colorado, New Mexico, North America
Itinerary Upload File:
Product Banner Image: , ,
Products Link PDF:
Departure Date and Year:
Products Link PPT:
There is perhaps no place in America more fabled and storied than the Southwest with impressions of the great frontier, the untamed wilderness, and native cultural roots that have flourished here for thousands of years. From snow-capped mountain peaks to desert dunes, onward to lush meadows sprawling out around river rapids, bubbling hot springs, and forest glades, this is a place where the wilderness is king. The roaming bison and soaring eagle cut through the air, backed by the sounds of the coyote's howl, experienced in a singularly unique environment as you spend time on a Nature Conservancy Ranch. Where people have settled, from ancient cave dwellings to old west saloons to modern cities, no place exists here without the natural order flowing through its veins.
Degree of Difficulty –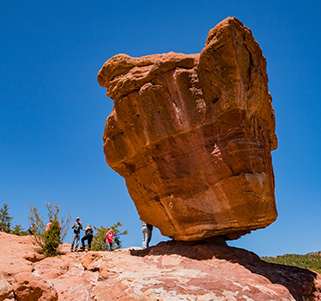 Prices vary by season and package. Please inquire by phone at (800) 627-1244 or email info@classicescapes.com for more information and a pricing estimate.
Maximum group size: Zapata Ranch only has 17 rooms, so 34 people is the maximum, including hosts.
YOUR JOURNEY INCLUDES:
Accommodation at hotels as indicated in the itinerary (or similar).
Transfers between airport and Albuquerque hotel, as well as Colorado Springs hotel and airport – extension returns from Denver. (Please note one group transfer will be supplied each way. Anyone not arriving on group schedule, will require a personal transfer at additional cost.)
All meals as specified in itinerary.
Services of driver/guides throughout the tour.
Transportation in private sprinter vans throughout the tour.
All park and admission fees.
All applicable hotel taxes and gratuities for baggage handling.
Water and snacks in the vans.
Complimentary baggage tags.
These states have a mild, mostly arid climate with light precipitation totals, lots of sunshine and low humidity. However, there's a lot of temperature variance, depending on areas visited and elevation. The highest mountains have similar weather pattern to the Rocky Mountains, for instance, and the desert areas in the winter can be warm during the day and quite cold at night. While New Mexico can be visited year-round, the overall best time to visit is September through November when days are warm and nights cool. The program that includes Colorado, visits higher altitudes and is best in May, June and mid-August through September.