Nebraska – Grand Island – The Great Sandhill Cranes Migration
Price Starting at $1,995.00
Categories: Nebraska, North America, Wyoming
Itinerary Upload File:
Product Banner Image: , ,
Products Link PDF:
Departure Date and Year:
Products Link PPT:
From a dynamic urban landscape to historic prairie, the Nebraska Crane Safari will surprise and inspire. For 10,000 years, hundreds of thousands of Sandhill cranes have been drawn to the Platte River in Nebraska during the month of March. It is their annual northward migration, and the shallow river and surrounding prairie and cornfields provide the ideal refueling stopover. You will have a once-in-a lifetime opportunity to revel in the cranes' primordial calls and witness the stunning spectacle of their descent to the river in the evening and their awakening and arising in the morning … an ancient ritual that has been going on for eons. The Crane Trust Legacy Cabins sit on one of the largest expanses of rare tall- and mixed-grass prairies in the country – 4,500 acres of historic grasslands on which pioneers once found their way west. Sweeping vistas await you. This historic prairie is now home to the first herd of genetically-pure bison in over 100 years. See these iconic beasts – descended from the last 1,000 pure bison that survived near-extinction – interact in their native habitat.
Degree of Difficulty –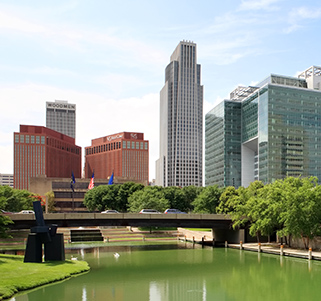 Prices vary by season and package. Please inquire by phone at (800) 627-1244 or email info@classicescapes.com for more information and a pricing estimate.
Maximum group size: No restrictions, although we recommend a maximum of 16 travelers.
YOUR JOURNEY INCLUDES:
Accommodation at hotels as indicated in the itinerary (or similar).
All meals daily while at the Crane Trust Wild Rose Ranch and welcome dinner in Omaha.
Host from the Crane Trust meets the group on Day 2 at 1:00 pm at the Embassy Suites for transportation to the Crane Trust and is with the group throughout afterwards.
Transfers to the Crane Trust Wild Rose Ranch from Omaha.
Complimentary baggage tags.
For over 10,000 years, hundreds of thousands of Sandhill Cranes congregate at the Platte River in Nebraska, and this is the only time our program is offered. This is a short program and temperatures can range from the 20's to the 60's. It is quite difficult to predict, nor can one predict that there won't be any snowfall during this time – it is, after all, winter. But, if you're interested in experiencing this unbelievable spectacle of nature, this is the time to come to Nebraska.