Montana & Wyoming – Jewels of the Northern Rockies
Price Starting at $8,895.00
Categories: Montana, North America, Wyoming
Itinerary Upload File:
Product Banner Image: , , ,
Products Link PDF:
Departure Date and Year:
Products Link PPT:
Many call it God's Country – the grand, sprawling natural beauty of the Western frontier that once called people by the thousands with the promise of fertile land, endless skies, and wild vistas; land that remained unclaimed by human hands for millennia, ruled by the will of wildlife and weather, until it was settled some 20,000 years ago by adventurers from the East who would become America's First Nations. Discover the allure of this remarkable place with a journey to three of America's most beloved national parks. From towering waterfalls, to sparkling mountaintops, to the rainbow of steamy mist that circles a field of geysers, you will explore deep trails and winding lagoons in search of wolf, elk, bison, and bear, surrounded by a cathedral to the power of nature, carved by the hand of time. This is a trip built for those who want to tap into a sense of wonder and experience the history of man and land alike in some of the most spectacular places on Earth.
Degree of Difficulty –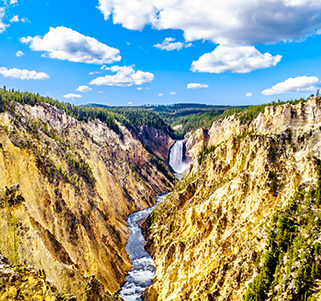 Prices vary by season and package. Please inquire by phone at (800) 627-1244 or email info@classicescapes.com for more information and a pricing estimate.
Maximum group size: No restrictions, although we recommend a maximum of 24 travelers.
YOUR JOURNEY INCLUDES:
Accommodation at hotels as indicated in the itinerary (or similar).
Transfers between airport and Missoula hotel, as well as Jackson Hole hotel and airport. (Please note one group transfer will be supplied each way. Anyone not arriving on group schedule, will require a personal transfer at additional cost.)
All meals as specified in itinerary.
Services of expert as driver/guides throughout the tour.
Transportation in private sprinter vans throughout the tour.
All park and admission fees.
All applicable hotel and lodge taxes and gratuities for baggage handling.
Water in the vans.
Complimentary baggage tags.
Mid-June through September is the optimal time to visit the Northern Rockies, with September being less crowded. These are the sunniest months, and snow can be expected by mid-October, or as late as May on the other side. Temperature, even in the summer, can be in the 80's during the day and drop to the 40's at night in Glacier National Park. At Yellowstone, July is the warmest month, but even then, the temperature at night can drop into the 50's. A similar pattern follows at Grand Teton National Park. Our winter program in Yellowstone is best from January through March.