Despite Iceland's northern location, it is an unusually warm country, both in weather and in the hearts of its people. Active volcanoes provide natural spas throughout Iceland, glaciers and mountains dot the country providing many rivers flowing to the ocean, and the Gulf Stream warms the island. Discover this warmth for yourself in Iceland's famous natural spas, on the trails of its mountains, waterfalls and volcanoes, and in the culture of its people. This trip is sure to leave an indelible impression, and fill your heart and soul with a type of Nordic happiness only Iceland can provide.
Degree of Difficulty –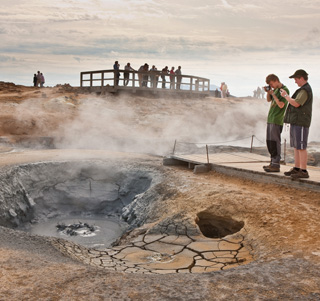 Prices vary by season and package. Please inquire by phone at (800) 627-1244 or email info@classicescapes.com for more information and a pricing estimate.
YOUR JOURNEY INCLUDES:
Superior accommodations throughout as indicated or similar.
Icelandic breakfast daily, a welcome dinner and a farewell dinner, and other meals as per itinerary. (B=Breakfast; L=Lunch; D=Dinner)
All ground transfers and excursions in private deluxe motor coach.
Services of a specialist guide with 10 travelers.
Entrance fees to all venues indicated.
Complimentary bottled water on coaches during sightseeing.
Complimentary passport wallet and baggage tags.
Complimentary emergency evacuation insurance.
Iceland's weather is cool and the Icelandic climate temperate. The warm North Atlantic Current ensures generally higher temperatures than in most places of similar latitude in the world. Iceland's winters are mild and windy while the summers are cool. There are some variations in the climate between different parts of the island. Often times the south coast is warmer, wetter and windier than the north. Snowfall in winters is more common in the north of Iceland. There's a seasonal change in length of day and night, creating unique weather phenomena. In midwinter, there is a period of no sunlight, and darkness prevails, called the Polar Nights. This is perfect to view one of the most beautiful phenomena: The Aurora Borealis (Northern Lights.) In midsummer, daylight takes over and there is no night darkness during June and July – this is called the Midnight Sun.