Greece & Greek Isles – The Jewels of the Cyclades
Price Starting at $6,795.00
Category: Greece
Itinerary Upload File:
Product Banner Image: , , ,
Departure Date and Year:
Products Link PDF:
Products Link PPT:
Witness the splendor of the Greek Isles on this exciting cruise through the Cyclades in the Aegean Sea. Dip your feet into the warm, blue waters as you move from island to island in comfort aboard your charming motor-sailer, the M/S Galileo. Begin your adventure in Athens with visits to the Acropolis and all the monuments that have adorned Athens through the millennia. On an offthe-beaten track cruise, discover less visited pristine islands with quaint villages and blue-domed churches and enjoy a night out in town on the Bohemian island of Mykonos and a full-day in scenic Santorini. Along the way, find yourself surrounded by classic Greek hospitality and distinctive cuisine. You may never want to return home!
Degree of Difficulty –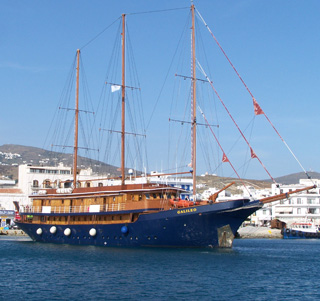 Prices vary by season and package. Please inquire by phone at (800) 627-1244 or email info@classicescapes.com for more information and a pricing estimate.
YOUR JOURNEY INCLUDES:
All transfers and sightseeing by air-conditioned motor coach.
Superior accommodations throughout as indicated or similar.
Services of English-speaking cultural guide throughout the tour, including the cruise.
7-night/8-day cruise aboard the M/S Galileo, in air-conditioned cabins fitted with central music, internal telephone, safe deposit boxes and hair dryer.
Meals Included: Welcome dinner, breakfast daily and a fare well dinner; all other meals as specified on itinerary. Typically, on the cruise either lunch or dinner will be included and the other meal will be taken on the islands, at the guest's choice.
All admission fees.
Gratuities for baggage handling, hotel tips and taxes.
Complimentary passport wallet and baggage tags.
Complimentary emergency evacuation insurance.
The four cruises we offer generally operate April through October and we have varying pricing depending on departure date. The weather in Europe is pleasant during that time of the year (although summers can be hot,) perfect for navigating the diverse rivers and seeing the beautiful countryside, historic sites, vineyards, castles and palaces. Emerald Waterways is an award-winning cruise line with new ships that are relatively small, accommodating less than 200 people. With their innovative design, all-inclusive packaging, expert guides and fabulous itineraries, travelers will want for nothing more. Our Zoos of Europe program is only offered in August, 2019.