Since the very dawn of time, Sicily has possessed an irresistible allure to mankind. With a human history stemming from at least 12,000 B.C., this Mediterranean island has drawn thinkers, artists, conquerors, and gods to the turquoise expanse of dramatic coastlines, the plunging valleys and soaring mountain peaks of the highlands, and the rich soils and rustling breezes of the forests. Today, ruins of monuments and homesteads from the greatest civilizations of humanity sit alongside one another opposite stunning landscapes and modern villages, only adding to the breathtaking magic of this timeless place.
Degree of Difficulty –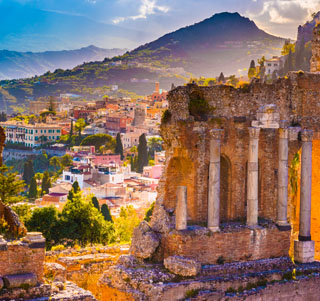 Prices vary by season and package. Please inquire by phone at (800) 627-1244 or email info@classicescapes.com for more information and a pricing estimate.
PRICING: Per person, based on double occupancy
2020
2021
Maximum group size: No restrictions, although we recommend a maximum of 35 travelers.
YOUR JOURNEY INCLUDES:
All ground transfers and excursions in private deluxe air-conditioned motor coach.
Continental breakfast daily, a welcome dinner and a farewell dinner and other meals as per itinerary. (B=Breakfast; L=Lunch; D=Dinner)
Superior accommodations throughout as indicated or similar.
All museum and attraction entry fees indicated on itinerary.
Porterage for baggage handling.
Complimentary baggage tags and passport wallet.
Complimentary emergency evacuation insurance.
With so many Italian offerings, you must wonder when is a good time to travel. Here's a synopsis.
On our National Parks program, the parks are only accessible because of weather conditions during the summer months with best time being mid-July through September, which is also quite sunny, hot and gorgeous for water activities. Our program does include opportunities to experience the great outdoors and beautiful grottoes, from the mountains of central Italy to Rome and
Naples.
The Umbria Jazz Festival takes place every year in July and also in December. The program can be offered year-round as it covers a picturesque part of Italy, but if music is your passion, then it needs to be in July or December.
The Verdi festival is in October and Puccini in September. Here, too, you can offer the programs year-round, but Italy, in general, is best visited in April-June and September/October, in order to avoid heat and also crowds.
Similarly, the Venice & Verona program features Opera; the Verona Music Festival takes place from end of June through the end of August and some performances will also take place at the renowned Fenice Theatre in Venice. The program can be offered year-round if music is not the main feature.
The South of Italy and the archaeological sites can be visited at any time, although best months would be April-June and September-October to avoid the heat of the summer. The temperatures during this time would be in the 70's ideal weather for viewing the temples, or visiting the beach, or hiking. The summer months could see temperatures in triple digit, and the winter months would be in the 50's.
The rest of our programs are best in April-June and September/October for the reasons stated above, particularly avoiding the heat, especially if the program includes hiking.