Great Escapes: Ethiopia – A Tapestry of Man & God
Ethiopia is the home of legends and monuments, both formed by the great hand of nature and erected by the genius and devotion of man. From the moment you land in Addis Ababa, you will be immersed in the wonder of the city's mighty cathedral and brought face to face with a plaster of Lucy – our oldest ancestor and a cornerstone of modern evolutionary science. This trip will take you through the many vibrant landscapes of Ethiopia, from the Blue Nile Falls and Simien Mountains to the Axum, and will present to you the man-made wonders of the sparkling pink churches in Lalibela. Exotic plant and animal life blends into remarkable works of art and religious iconography, coming together to create an adventure unlike any other.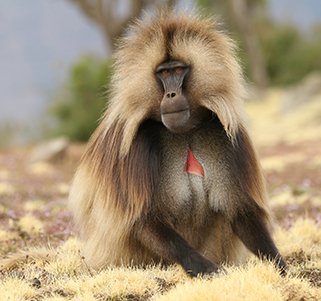 YOUR JOURNEY INCLUDES:
Flights Addis Ababa/Dire Dawa/Addis Ababa on the post extension.
Superior or best available accommodations throughout as indicated or similar.
All viewing by private 4WD, minibus or coaster bus.
Complimentary bottled water in vehicles and with meals.
All entrance fees to the sites mentioned in the itinerary.
Specialist guide throughout.
All applicable hotel/lodge taxes and gratuities for baggage handling.
All entry fees.
Complimentary baggage tags.
Complimentary emergency evacuation insurance.
The climate in Ethiopia is temperate, especially in the large central plateau region, and because many of the places visited in our itinerary are on higher elevation, it tends to be cooler and more comfortable, around 70 degrees F. High season in Ethiopia is January through March when the skies are sunny and the days warm. Wildlife viewing is excellent during this time and some colorful festivals occur, like Timkat and Leddet. During the shoulder season – October through December, the country is green, the skies are sunny, and the crowds are missing, and the Blue Nile Falls are the most spectacular to view. This is an excellent time to enjoy trekking, as well. Low Season is April through September when it can be rainy, particularly in southern Ethiopia and the heat is scorching in the lowlands, but you can still visit – best to avoid July/August (long rains) when it can be very rainy. For our program, we recommend travel between October and April.