As the COVID-19 situation has rapidly evolved here in New York City, Classic Escapes has taken a number of precautions to ensure the safety and well-being of our staff. As per the recommendations of our governor, effective immediately, all Classic Escapes employees will be working remotely, and as of next week, will be available on Mondays, Wednesdays, and Fridays. If you have an emergency, you may call our emergency line at any time, and someone will assist you. That number is 718-909-7228.
If you require assistance on Tuesdays or Thursdays, or after hours, our founders, Diana and Stacy Fiorentinos are available, as well. They can be reached at dianaf@classicescapes.com and stacyf@classicescapes.com.
The office phones have been forwarded to employees' cell phones, so if you call, you should still reach the party you need. However, we recommend you try email first if you do not know the pertinent person's extension number.
We will continue to follow the developments of this global situation as closely as possible. Rest assured that if you are booked on an upcoming departure that has been affected by the COVID-19, our team will be in touch with specific information regarding your trip.
As ever, we prioritize our travelers, and are available to assist you with any questions you might have. We hope you remain safe and well during these uncertain times.
Locations with Confirmed COVID-19 Cases Global Map
As of March 19, 2020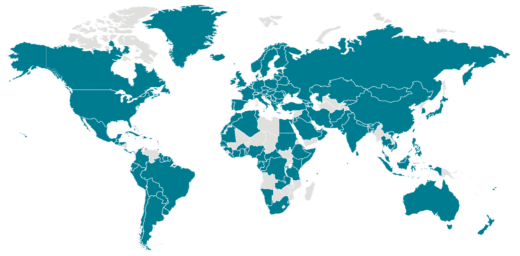 Get case updates from the World Health Organization here.