Nationality: USA
Conservation Focus: Gorillas
In the history of wildlife conservation, there is perhaps no figure more colorful and controversial than Dian Fossey. Her outspoken opinions on the sanctity of nature, her tumultuous personal life, her unorthodox anti-poaching behaviors, and of course, her unsolved murder have long captivated the world.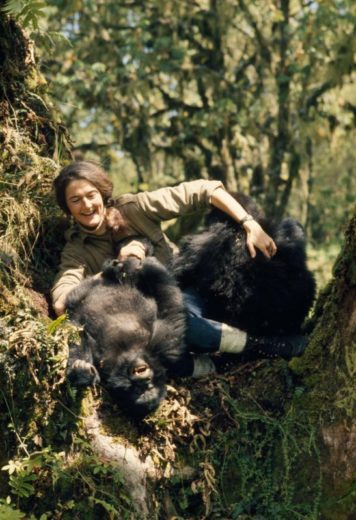 Dian's origins are not that of many academic headliners.  Raised the neglected daughter of a fashion model in California, she channeled her estrangement and neglect into a love for animals. This love and her disregard for cold parents led her to rebel against their wishes that she attend business school, and instead she threw herself into veterinary sciences.
In her 20s, she took out a gargantuan personal loan – the equivalent of one year's salary – to visit Africa. This trip would prove fateful in many ways, perhaps most profoundly by introducing her to famed anthropologist Louis Leakey, who took note of her interest in mountain gorillas.
By chance, when Leakey made an appearance in Louisville, where Fossey had returned to work toward repaying her loan, she impressed him with the articles she'd published about her time in the article. She impressed him enough that he offered to finance a research project deep in the Rwandan jungles, where she could truly get to know the mighty mountain gorilla.
This was not an undertaking for the faint of heart. The dense jungles are muddy, wet, and unforgiving and the locals surrounding them were not welcoming to the scientists. Many of her workers were unable to make it through more than a few months on the project before returning home.
Fossey, however, dug her heels in. As her research progressed, she fell in love with the gorilla. Her personal favorite was named Digit, and belonged to one of her key research groups.
In the early days, Fossey's time was primarily devoted to research, with a chunk of her working hours devoted to anti-poaching measures. Gorilla infants were a hot poaching commodity and laws against poaching dozens of adults to get to an infant were rarely enforced. The heads and hands of the adults also brought small profits as lucky talismans or ashtrays for tourists.
When Digit himself fell victim to these poachers, Fossey's crusade against poaching went into high gear. She took to the jungles herself, sabotaging traps, physically capturing and punishing poachers, and in some cases publicly humiliating them so that they would not return.
Her eccentric reputation spread far and wide, even as her explosive memoir, Gorillas in the Mist, took the literary world by storm.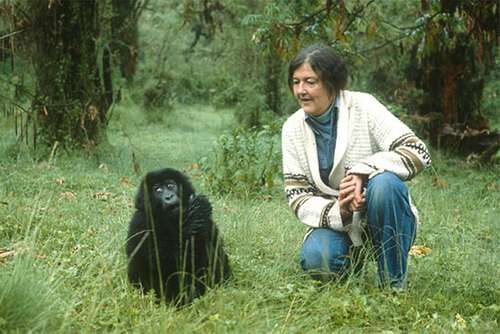 Of course, Dian Fossey's work and legacy came to an abrupt end in 1985, when she was found murdered in her research hut. There are many theories as to who killed her and why, though the majority of theories speculate that her efforts to stop poaching and end tourism to visit gorillas had financially motivated a significant number of parties to want her out of the way.
Her anti-poaching effort still stands today, renamed the Dian Fossey Gorilla Fund International. A reconstructed Karisoke Research Center still stands, reclaimed after Rwanda became safe for such undertakings again following their highly-publicized genocide.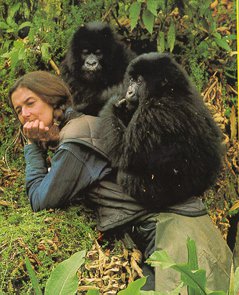 Visitors can pay respects at Dian's final resting place, alongside her beloved Digit in the cemetery she established for poached gorillas.
Her final diary entry read, "When you realize the value of all life, you dwell less on what is past and concentrate more on the preservation of the future."
Donate to Dian Fossey Gorrila Fund International
Learn more about Karisoke Research Center