Unlike many of the women we've featured this month, Anna Merz did not start her conservation journey as a young woman. Rather, she was preparing to retire from her law career, which she was practicing in Ghana when the calling struck her.
"When we went to Kenya in '68, we saw rhinos everywhere," she said. "When we went in '76, we saw corpses everywhere. The massacre was unbelievable… They were being killed at such a horrifying rate that I decided to do something."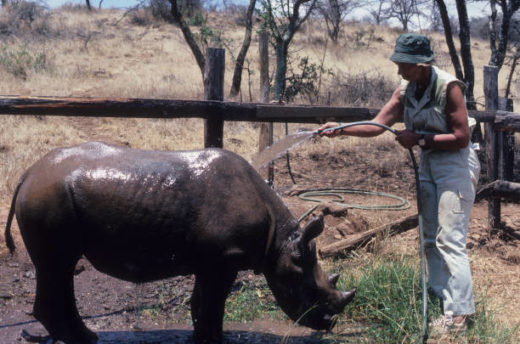 The demand from East Asia for rhino horn had been growing, and with access to the AK-47, poachers were becoming terrifyingly efficient at wiping out massive populations of rhino in one fell swoop.
With little more in the way of resources other than a few good contacts, Merz set to work in hopes of saving this iconic species from total annihilation. David Craig, the owner of a 62,000-acre ranch on the Lewa Downs in northern Kenya, was open to Merz's idea to create a protected sanctuary, to which he and his wife contributed a sizable financial gift to kick off the project.
From there, Merz was constantly fund-raising, recruiting, and spreading the word about both Lewa Downs and the plight of the mighty rhino. Any moment she couldn't spend on her beloved reserve was dedicated to finding ways to improve and sustain it, particularly through involving the local community in the project by way of jobs and constructing local resources like clinics and schools.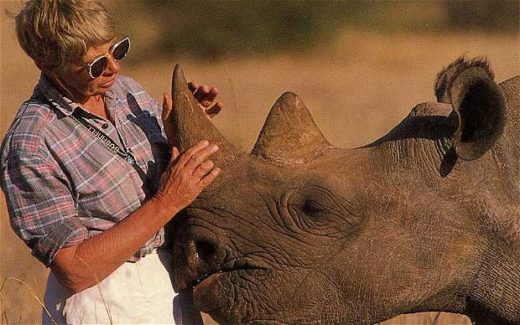 Anna fell in love with the rhinos that were located to the Downs. She described them as intelligent, affectionate, and evidently very fond of the Shakespeare passages she read them on a daily basis.
Her particular favorite was a female black rhino named Samia, who took to sleeping in the bed with Anna, at the chagrin of her husband. Even as an adult, Samia was desperate to be by her surrogate mother's side. She was known to frequently sneak back into the house when the humans weren't looking, and in one memorable incident, the Merz couple was forced to use about a gallon of cooking oil to dislodge poor Samia from the dining room doorframe, which she had once fit through with ease.
Samia split her time between the herd on the Downs and Anna, eventually conceiving a baby of her own. It was this rhino's death, as the result of a tragic fall from a cliff, that signaled to Merz that it was time to retire for good.
She relocated to South Africa with her husband and 7 dogs, and remained involved on an administrative level with Lewa Downs until her death at age 83, in 2013.
Desmond Morris said that she was to rhinos what Joy Adamson was to lions, Dian Fossey to gorillas, and Jane Goodall to chimpanzees. And to the world at large, she will forever be known as the "mother of rhinos."
Find out more about Lewa Downs Here