Great Escapes: Tanzania – Treasures from the Land of Kilimanjaro
Escape to Tanzania, a land of untamed beauty and vibrant life. Meet the quintessential creatures of Africa along the sparkling banks of Lake Manyara and the endless rolling plains of the Serengeti. Go on safari in search of lion, elephant, giraffe, and so much more. Spend time with the nomadic Maasai and learn about their way of life. Discover the very roots of humanity at Oldupai Gorge, where our earliest ancestors were discovered. Complete your journey with an optional extension to the lush beauty of Zanzibar.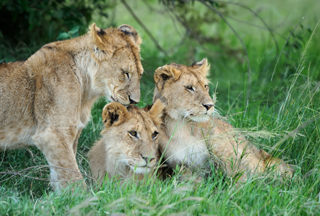 YOUR JOURNEY INCLUDES:
Domestic flight Arusha/Zanzibar as specified in the itinerary for the extension, as well as Zanzibar/Dar es Salaam.
Superior accommodations throughout as indicated or similar.
All meals on safari in Tanzania. Meals as specified in Zanzibar.
All wildlife viewing by land cruiser.
Complimentary bottled water in vehicles and during lunch/dinner.
All gratuities to porters & dining room staff.
All park entry fees.
Complimentary luggage tags.
Emergency evacuation insurance.
Tanzania is located close to the Equator. The temperature, therefore, does not vary too much. During our summer months – their winter (June through August) it is about 10 degrees cooler, but days will be warm and can reach the 80's and evenings can be cool and can drop to the 40's in the higher elevations. Most programs include some high elevation spots – the rim of the crater is at 7,500 feet. The rainy season is in April/May (long rains) and November (short rains). However, it does not rain every day, or all day, and rainstorms are quickly followed by brilliant sunshine which makes for incredible photographic opportunities. Wildlife viewing is good year-round, however the migration of zebra and wildebeest follow this cycle:
January-March – southern sector of the Serengeti and the animals are massing and giving birth to their young
April-June – central Serengeti and the animals begin to move
July – western corridor of the Serengeti and on the move towards Kenya
August-October – northern Serengeti and mostly into Maasai Mara in Kenya
November-December – returning back to the Serengeti and making their way to the southern sector