GLOBIO: Uganda Great Apes Safari
Price Starting at $11,295.00
Categories: PARTNER JOURNEYS, Sub‐Saharan Africa
Products Link PDF:
Itinerary Upload File:
Product Banner Image: , , ,
Departure Date and Year:
Base Price: 11,295
Products Link PPT:
Overwrite Product Page?: yes
Our Uganda Great Apes Safari is specifically designed for those fascinated by apes and monkeys. Based on our Apes Like Us work, we offer exclusive insights and activities on your journey to explore the ecology and conservation of these magnificent primates of Uganda's Albertine Rift region. Our safari begins in the iconic Kibale Forest trekking for chimpanzees, and includes three separate opportunities to experience chimps, including a half-day Chimp Habituation Experience (CHEX)*, and three full-days in the mountain gorilla country of Bwindi Impenetrable Forest National Park.
Uganda is known as the "Pearl of Africa", and it is definitely the jewel of primate discovery. Accessible and safe, and acclaimed for its outstanding natural beauty and diversity – Uganda's primate country is in the center of Africa's "Great Lakes" ecosystem. Over 5,000 chimpanzees populate the lush hilly region. It's also in these densely packed, "impenetrable", forests that Uganda's most famous residents resides—the breathtaking and endangered mountain gorillas—over 600 of these powerful gentle great apes, half the world's population, live in the rainforests of Bwindi.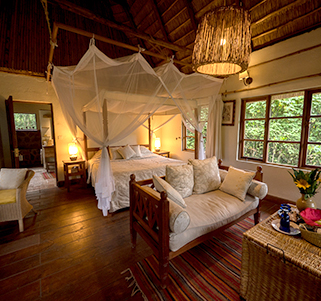 YOUR GLOBIO SAFARI INCLUDES:
One permit to trek for the mountain gorillas.
One permit to trek for chimpanzees in Kibale.
One half-day Chimp Habituation Experience permit*.
One permit to trek for chimpanzees in Kyambura Gorge.
Wildlife viewing in custom-built 4-wheel drive safari vehicles, with open roof viewing hatches for wildlife viewing and photography. A window seat is guaranteed. (All chimpanzee and gorilla trekking will be made on foot.)
All internal Uganda flights.
All meals while on safari in Uganda.
All gratuities and guides services.
All National Park and Reserves entry fees.
Complimentary GLOBIO baggage tags, and eco-water bottle.
Complimentary emergency evacuation insurance.
*This can be substituted for a 2-3 hour chimp trek for those not prepared to spend half day in the forest.
GLOBIO SPECIAL FEATURES:
Complimentary copy of GLOBIO Apes Like Us Guide to great apes.
GLOBIO Director/ and film-maker Gerry Ellis will escort the group on the main trip.
Visit with GLOBIO Field Conservation program partners in Kibale and Bwindi.
Apes Like Us/GLOBIO 2021 Full-color Wall Calendar.
**The GLOBIO Uganda Great Apes Safari is based on minimum seven participants. Exclusive arrangements can be made for private groups, please contact Meg at meg@globio.org for more information.
Please inquire by phone at (800) 627-1244 or email info@classicescapes.com for more information.
Pricing: Per person, based on double occupancy
Main Program
Land Package Only, inclusive of permits for 1 gorilla trek in Bwindi & 1 chimpanzee trek in Kyambura Gorge

$11,295
Single Room Supplement

$1,995, additional

International Air is NOT included.

Contact us for assistance.

Each Extra Gorilla Permit in Bwindi
Each Extra Chimp Trek at Kibale

$700 per person, additional
$200 per person, additional
Pre-Extension to Murchinson Falls
Single Room Supplement

$495
Uganda is a beautiful country and lovely to visit any time of the year. When gorilla trekking, it's not uncommon to encounter rain. After all, it is the rainforest you will be visiting and it rains quite a lot, but that will not stop you from trekking to see the gorillas, just have adequate raingear and hiking boots. The rainy season overall in the country follows the East Africa pattern – long rains in April/May, and short rains in November. Gorilla viewing is actually better during the rainy season, as they're generally feeding in lower elevation and can be viewed with less trekking. However, this can never be guaranteed – neither can one guarantee 100% success in viewing the gorillas, although they're almost always sighted.