Great Escapes: Egypt – Odyssey Through The Sands of Time
Discover the allure of sun-drenched sands, bustling cities, majestic monuments and Pharaonic treasures on a journey to Egypt. From literary writers, including Agatha Christie and Penelope Lively, and films such as The Mummy, Cleopatra and Indiana Jones, the lure of this ancient country with its incredible Egyptian civilization that ruled for three millennia is hard to resist – tourists, archeologists and historians flock to its treasure trove of romantic, and sometimes savage, history. Dissected by the mighty Nile River that flows north into the Mediterranean Sea, the Egyptian landscape is awash with low-lying sand dunes broken by sandstone plateaus and cliffs in the southwest near the Nile and Red Sea. The only fertile area is a small five to ten-mile section in the Nile Valley, where 98% of the country's 74 million people reside and the location of capital city, Cairo. Get ready to soak up the exotic mix of cultures, where Arabic is the official language, followed by English and French, as you begin your unforgettable adventure to a land steeped in time and timeless civilizations.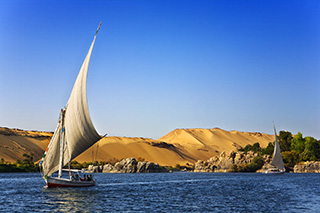 YOUR JOURNEY INCLUDES:
Flights between Cairo/Luxor and Aswan/Cairo.
Flights between Cairo/Amman/Cairo on the post-extension.
Superior 5-star accommodations throughout as indicated or similar.
5-Day/4-Night Nile cruise aboard a deluxe cruise ship.
American breakfast in Cairo, all meals while on Nile Cruise; other meals as specified on the itinerary.
Sightseeing in Egypt by deluxe air-conditioned vehicle.
All entrance fees.
Hotel taxes and service charges for included services.
Two bottles of water per day.
English speaking Egyptologist guide on sightseeing. Different Egyptologist on cruise.
Complimentary luggage tags and passport wallet.
Complimentary emergency evacuation insurance.
There are basically two seasons in Egypt: a relatively cool season that lasts November-March (by far the better touring season) and a hot season April-October. The Red Sea coast has fewer extremes and is nice year-round. In the spring (especially late March to early April), sand and dust storms called khamsin blow in and can reduce visibility (sometimes even in Cairo) to less than 100 feet.