Great Escapes: Enchanted Ecuador – Colonial & Andean Charms in the Center of the World
Explore the historic sights and exotic sounds of Ecuador's capital city, shop to your hearts content in Otavalo, South America's most famous Indian Fair, and revitalize your body and soul in the hot thermal spring pools of Papallacta. Discover the doorway to El Dorado with the majestic peaks of the Andes Mountains glimmering in the background as you take in the natural bounty of Ecuador. Natural splendor abounds, set against crashing waterfalls in Banos and tropical opulence at Cajos National Park. History comes alive in the colonial preservation of Cuenca, the port-side charm of Guayaquil, and the ancient power of Ingapirca, the only Incan fortress in Ecuador.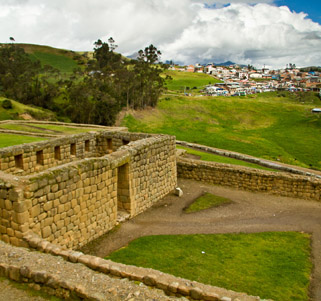 YOUR JOURNEY INCLUDES:
Superior and best available accommodations at hotels in Ecuador.
American breakfast in Quito and other meals as indicated.
Round-trip flights to the Galápagos on the post extension.
Gratuities for baggage handling, hotel tips and taxes.
Complimentary baggage tags.
Emergency evacuation insurance.
This is truly a destination that is great to travel to year-round. In Quito, over 9,000 feet above sea level, the temperature ranges from 55ºF at night to 78ºF at noon. The Coast's climate (Guayaquil) is generally warm and can be quite humid.