Great Escapes: China – Dynasties Revealed… Nature Discovered
Categories: Asia & the Pacific, China, GREAT ESCAPES
Itinerary Upload File:
Product Banner Image: , ,
Products Link PDF:
Departure Date and Year:
Base Price: 5,895
Products Link PPT:
Dating back more than six million years, China is one of the world's oldest civilizations. Home to Forbidden Cities and the legendary Great Wall, China awaits your arrival. Walk through ancient palaces and temples, sail through majestic gorges and taste the divine flavors of the local cuisine. Visit sites that connect the illustrious past of imperial China with the modernizing present of the People's Republic. No matter where your journey takes you be prepared for an awe inspiring adventure!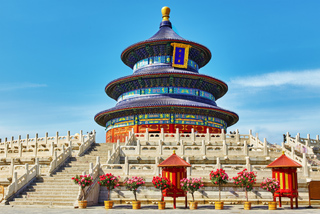 YOUR JOURNEY INCLUDES:
Superior or best available accommodations throughout as indicated, or similar.
Flights within China: Beijing/Xian/Chongqing; Yichang/Shanghai.
Breakfast daily at city hotels.
All meals on Yangzi River cruise beginning with dinner on night of embarkation and ending
with breakfast on morning of disembarkation.
Sightseeing as indicated in itinerary via private air-conditioned vehicle with English speaking guide.
Yangzi River cruise based on Xiling Deck-third deck.
Complimentary bottled water in touring vehicles.
All applicable hotel/lodge taxes and gratuities for baggage handling.
All park and places of interest entry fees.
Complimentary baggage tags.
China is characterized by a continental climate, and the climate differs from region to region because of the country's extensive territory and complex topography (latitudes span nearly 50 degrees). Most parts of China have a clear division be-tween seasons. In winter, northerly winds from high latitude areas keep the northern part cold and dry, while in summer, monsoons from southern coastal areas bring warmth and moisture. The rainy season runs from May through August and typhoons frequently occur in the southeast coast between July and September. Consequently, China is best visited in the Spring and Fall, avoiding the sweltering heat and monsoons, as well as the winter cold.